Engage Your Community — Walking is a great way to connect with others while staying healthy. Look here for resources to help you plan an event or encourage others to walk.
Shape Your Environment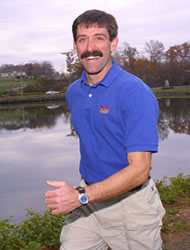 Move More, Walk Now NC Workshop
September 20, 9:30 – 3:30 | Embassy Suites, Harrison Blvd, Cary
Join Eat Smart, Move More North Carolina in welcoming Mark Fenton, a recognized authority on community and environmental initiatives, for an interactive workshop. Workshop attendees will participate in a neighborhood walkability audit; learn to identify features that encourage walking, biking and wheeling; and learn how "pop-ups" can be used to demonstrate changes that will create more walkable communities.
Come ready to go out and walk. Registration is now closed.
Mark Fenton, our workshop facilitator, is a national public health, planning, and transportation consultant and former host of the America's Walking series on PBS television. He's a vocal advocate for non-motorized transportation and a recognized authority on community and environmental initiatives to encourage more walking.

Join the movement – Eat Smart, Move More NC is a statewide movement that promotes increased opportunities for healthy eating and physical activity wherever people live, learn, earn, play and pray.